GCSE Options
Across Key Stage 4, we offer students Level Two qualifications which fall into two categories: GCSEs and Level 1/2 Awards (run by either BTEC, WJEC, Eduqas or NCFE). Each of these course types are recognised by the Department for Education, will allow students to follow a broad, balanced and relevant programme of study and will be valued by Post-16 education providers and employers.
GCSE courses are of the new 1-9 grading structure (where 9 reflects the best performance) rather than the traditional A*-G model. The Level 1/2 Award qualifications are a more vocational style of learning, The grading is 75% internal assessment (in essence, coursework) and only 25% examination based. The grading system is Pass, Merit and Distinction and is available at both Level 1 and Level 2, with a Level 2 Distinction being equivalent to a Grade 7 (old grade A) at GCSE.


THE CORE SUBJECTS
All students take these subjects to full course GCSE level:
English: double certificate, GCSEs in Language and Literature (2 GCSEs)

Mathematics
All students will also follow programmes of study in these core subjects:
Science: We offer two routes—Triple Science (3 separate GCSEs) or Combined Science (a double qualification equivalent to 2 GCSEs). Both routes involve studying Biology, Chemistry and Physics.

Religious Education (students will complete a short course GCSE at the end of Year 10; full GCSE is also available as an option)

Physical Education (no examinations unless GCSE or BTEC PE is chosen)

Personal development (no examinations)

ADDITIONAL SUBJECTS
Students are given the opportunity to express preferences for four additional subjects.
Students must indicate their choices via the Google form that will be sent to their email address on Friday 10th March. The deadline for completion of this is Monday 20th March 2023.
As far as we are able, we try to ensure that students get their first choices and this is usually, but not always, possible. 
All Students will complete courses in the Core Subjects:
English (Language and Literature)

Maths

Science (Triple or Combined)

RE short course GCSE (also a full GCSE Option)

Personal Development (no exams)

PE (no exams unless choosing GCSE or BTEC)
In RE students will work towards a short course GCSE which will be completed during year 10. Full GCSE is also available as Option choice.
Students will then select four further subjects; one subject from each column. All subjects are GCSE unless otherwise indicated.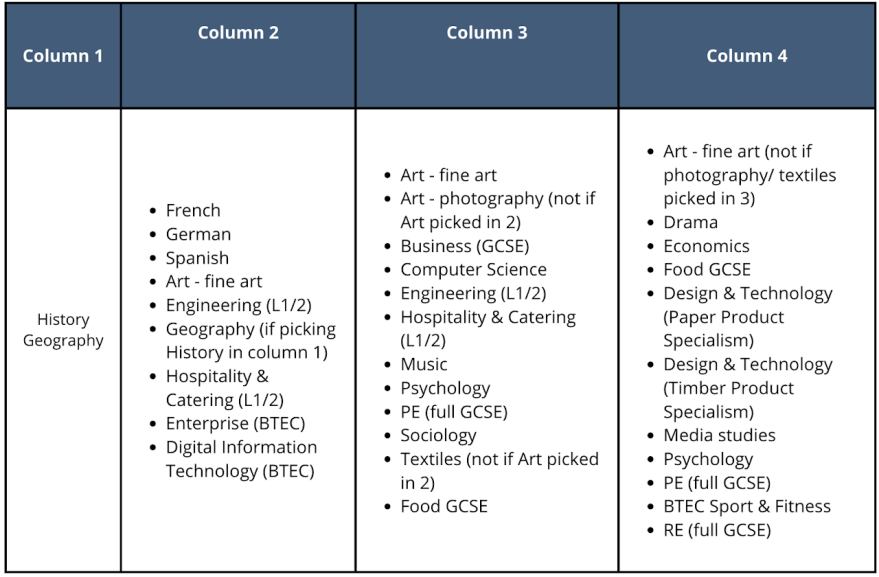 Reserve Choices It is possible that, because of staffing, timetabling or the number of students opting for a subject, we may not be able to allocate students' first choices in columns 2, 3 or 4 so it is important that they also make three reserve choices. 

Subject restrictions Only one Art subject (Fine Art, Photography or Textiles) can be taken as these are technically the same GCSE, just variations within the subject. 
Likewise, students cannot do BTEC Sport & Fitness and GCSE PE; BTEC Digital IT and GCSE Computer Science or Hospitality & Catering and GCSE Food.

If you would like to know more then please refer to our GCSE Options Booklet below.